It seems that just about every house we've staged in Denver the past couple weeks has had built-in bookshelves.  A fabulous architectural feature, sure to help sell the home…and sure to help clean out our accessories inventory!
It's easy to get stumped when staging or styling a built-in.  All that space can be daunting.  Which is why the Pineapple team has come to the rescue with some simple guidelines to help you get started!  We've added some visual examples along the way with each of our tips, too…  
1.  Use Plenty of BOOKS!  Though this may be our most obvious point, it's sometimes easy to over think the layout and neglect the shelves' true inhabitants!  Organize books by size and color, changing up the way books are placed on each shelf.  For example, stack books vertically on one shelf, then line up books horizontally on the next to create visual interest and balance.
And, did you know you can order books by the foot??  You can even choose your color scheme!  So cool.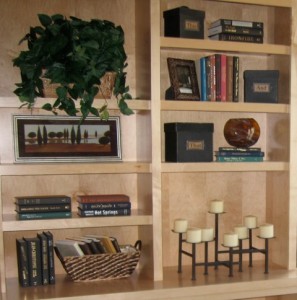 And if you're really an over achiever take a look at this…
2.  Layer, Layer, Layer!  Besides books, you will want to include other interesting objects on your shelves.  Think vessels like vases, jars and baskets.  Use other small figurines or  unique items to place on top of a stack of books or as book ends.  Use greenery to bring in fresh color and a natural element. These details will allow buyers to feel at home and cozy when inside your house! 
And it's no coincidence that we used the word layer three times…remember THE RULE OF THREE!  Things generally look best when grouped in 3's, and balanced based on size.  For example, try grouping a taller vase with natural birch branches or grasses, a medium sized, leather box and a small scale bird figurine.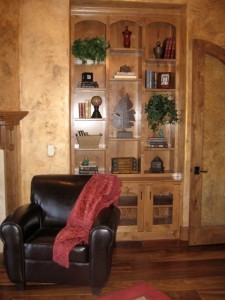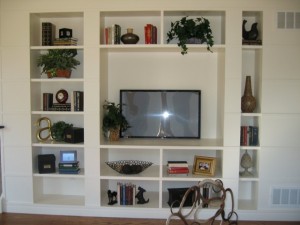 REMEMBER, as always, when showing your home, TO MINIMIZE LARGE PERSONAL COLLECTIONS and TASTE SPECIFIC ITEMS to ALLOW POTENTIAL BUYERS TO ENVISION THEMSELVES LIVING THERE WITH THEIR THINGS!  In other words, when showing your home, built-ins are not the place for your entire collection of antique nutcrackers.  Even at Christmas time.
3.  Maximize Your Space!  Don't be afraid to remove or rearrange shelves to create more space.  This way, you can add pieces of art or larger items.  And believe it or not, leaving open space (gasp!) in the shelves is okay, too!  Using negative space can help draw the eye to pieces you'd like to highlight, and most importantly, give the appearance of more total space in the built-ins.  (See last week's post for more explanation on how jam packing spaces like closets, or in this case, shelving, with more things actually makes the space feel smaller)
 Here's a great example of how to use larger spaces to display art work: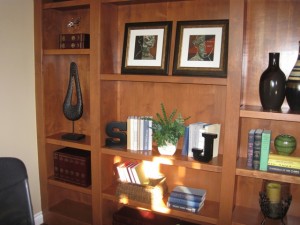 And finally, our last, and MOST IMPORTANT tip: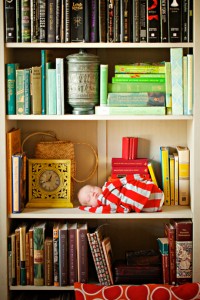 DON'T FORGET YOUR BABY IN THE BUILT-INS WHEN YOU'RE DONE.
(photo via i suwannee)