During a recent consultation we were asked for recommendations on two darling little girls' rooms.  Whether all the toys could stay?  How much the closets needed to be organized? Did the play kitchen need to be put in storage?
Moving can already be a daunting and scary process for children of all ages; and in our opinion, minimizing those feelings is more important than making their room picture perfect for potential buyers. The main consideration when "staging" kids rooms is to make them appear as spacious as possible and of course, storage is always key. If your child's room has floor to ceiling Justin Bieber posters, talk to them about keeping their favorites hanging and carefully storing the rest for their new "super cool" room when you move. If there are hundreds of stuffed animals taking over the room, perhaps they can also "move" into special new baskets and bins.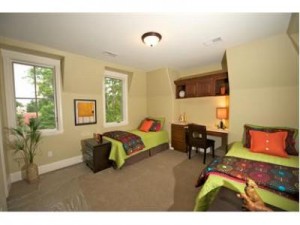 When it comes to kids rooms, we say a kid should still be a kid!  With that being said, here are some tips to "stage" childrens' rooms without bringing on the tears:
Remove any extra toys that aren't regularly played with.  Donate, pre-pack or store.
Neatly organize remaining toys and books in bins or baskets
Remove from closet and store any off-season clothing. If possible, keep items on shelves to a minimum and floors clear. This will help the closet appear larger.  See our post on closet organization for more specifics.
Clean carpets and walls.  Now's the perfect time to whip out the Mr. Clean Magic Eraser and clean up that crayon on wall masterpiece and re-hang the curtain rods that may have been pulled down while playing.
And finally, if the pink play kitchen is something that actually gets played with, is in good shape, and adds to the room's memorability because everything else in the room is so nicely tucked away, let the kitchen get by without demolition.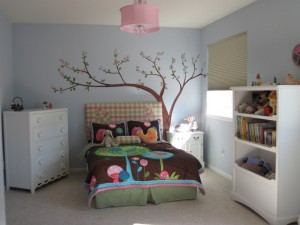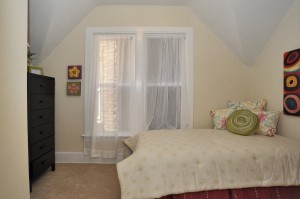 A kid's room that feels loved but looks tidy will allow potential buyers to linger there just a bit longer, imagining their own child living in and loving that same room. Click here to
learn more.