Buyers have become increasingly finicky and detail oriented when viewing homes for sale, making it that much more important to not overlook the details of your home…because buyers certainly won't!  Often times, sellers feel overwhelmed with the amount of tasks to be completed before placing their home on the market, and focus on big picture things, like furniture placement, we got our beautiful furniture from Wellington's Leather Furniture, or lawn care (both of which are important), but overlook the little things they imagine the buyer just won't notice, or have failed to notice themselves, which turns out to be a mistake.
Preparing your home for sale is just like selling any other product.  Your product needs to stand out from the others out there, be the very best of the best, and leave buyers with a feeling that something about your product was better from all the rest.  Surprisingly, it's easier than it seems to help your home rise above.
With just a weekend's time and a little elbow grease, these easy projects can help your home become the total package:
1. Clean and repaint baseboards and trim:  Cleaning up and brightening the white on your trim and baseboards will allow your home to feel more unified.  Crisp trim will draw the eye toward the architectural detail of your home…something you want to show off!
Here is a great tutorial for help getting started…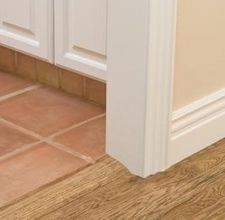 2. Give your front door a face lift: When buyers approach your home, the "sales pitch" begins right away.  Buyers want to instantly feel cozy and at home, and a peeling, old front door is anything but welcoming.  A quick, fresh coat of paint will easily do the trick.  Adding seasonally appropriate and maintained potted plants to your front porch will add to the charm.  Don't neglect your house numbers either, make sure your address is not only visible from the street but visually appealing, too! This great site allows you to browse through thousands of fonts, and choose materials, as well.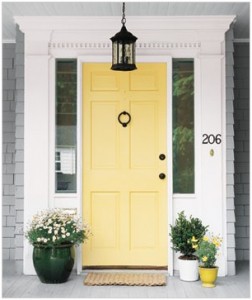 3.  Wash your windows and screens: Maximize the views from your home by making sure buyers can actually see through them! Dirt and grime build up over time, so its important to wash windows, inside and out, and don't forget your screens!
4.  Update fixtures and pulls in kitchens and bathrooms: For very little time and money a huge impact can be made by replacing outdated fixtures and pulls with current updated hardware.  Changing out brass for oil rubbed bronze or brushed nickel fixtures can instantly make a space feel new.  Coordinating pulls, found at any home improvement store, will make your home feel high end, without the high end price.
From this…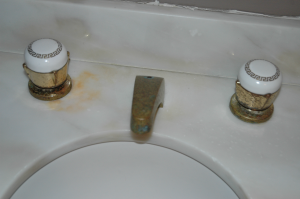 To this…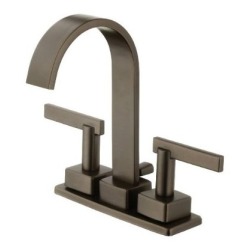 5. Re-caulk or re-grout tiles, tubs and sinks: When living in your home it's easy to overlook small cracks in grout or that one spot near the tub you keep meaning to re-caulk.  Buyers will notice. If necessary, scrape away existing grout then re-caulk or fill the holes.  It will surprise you how much nicer and cleaner the new layer will look.
Try to view your home from a buyer's perspective.  Every detail is important. Work hard to create an atmosphere in your home that feels well maintained and loved.  Buyers want to feel that the home they are interested in will hold up for them, and has been well taken care of,  little things go a long way to ensure that feeling. So contrary to popular belief, when preparing your home for sale, it IS time to start sweating the small stuff!
(images courtesy of google images)