As stagers, our job is to highlight the best selling points of the homes we work in. Often, the fireplace is the most important focal point in a den or living room. Appropriately styling the mantle, with artwork and accessories can be a challenge.
Here are some of tips we think it's important to remember:
1. SCALE:
Consider the size of the mantle and the size of the space above it. The pieces you choose to rest on the mantle should fill much of the space, without dominating it. Remember to consider vertical and horizontal scale, using accessories appropriate to both, and in appropriate scale with each other.
For example, mixing a HUGE art piece and a tiny vase on a not so huge mantle is a no-no. The art piece will overpower the mantle and the scale of the tiny vase won't work with the huge art piece.
In this photo, the items on the mantle are clearly too small for the size and style of the fireplace.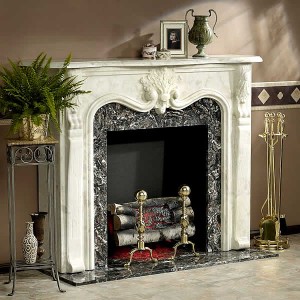 Try something like this instead.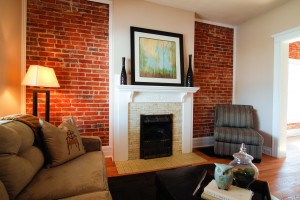 Notice the large scale artwork is appropriate to the scale of the fireplace and the wall above it.  The medium and large size of the vases add to the vignette and do not distract from the artwork, or the fireplace, itself.
2.  GROUPINGS:
As always, we like things grouped in odd numbers.  It's more visually appealing to the eye and also lends itself to a more collected look, allowing the room to feel cozy and lived in.
3.  IMPACT:
If the fireplace is to be the "wow" moment in a room, make it just that.  Often times, choosing a single, bold, large piece of art can be the best way to draw focus to the fireplace.  Let the art and the architecture of the fireplace speak for itself.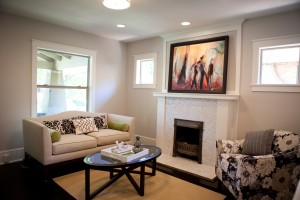 Here is a great video tutorial from one of our fav HGTV stars, Emily Henderson.
http://www.stylebyemilyhenderson.com/blog/styling-101-how-to-style-your-mantel.html
SCALE, GROUPINGS, IMPACT.  Now go.  Style some mantles.