Whether selling your home, or just revamping your style, there are so many easy and inexpensive ways to give new life to your walls.
If you're willing to put in a little DIY elbow grease the possibilities are really endless, and thanks to Pinterest, we have thousands of tutorials on fun things to draw at our fingertips.  Here are some of our favorites to help you get started…
Use a curtain rod and clips to hang kids artwork.  The clips let you to display weekly masterpieces your kids bring home, allowing you to easily personalize a hallway or workspace.  We saw a brilliant alteration of this in a client's home yesterday and loved it.  We're especially a fan of this particular system from IKEA because it's sleek and keeps things organized.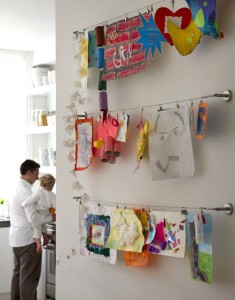 Find more info on the how to here
Metal letters and symbols as wall decor are popping up everywhere.
Check out the giant "B" in the entry of Shelley's home (feel free to "ooooh and ahhhh" over the vintage type writer, too).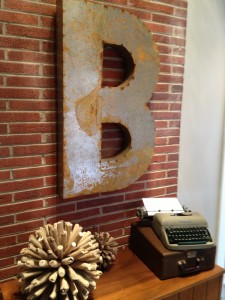 Anthropologie carries these and these, but they aren't exactly budget friendly.  We found this amazingly simple tutorial to make look-a-likes at a fraction of the cost.  And JoAnn's even carries huge cardboard letters allowing you to follow the same tutorial, just on a larger scale to achieve a look like Shelley's.
Have a large wall you need to fill but not the funds to invest on a large painting or photograph?  Two words: engineer print.  Stores like Staples or Office Depot can print a huge (think 4'x3′) copy of a photograph and with some basic hardware store supplies, you can make something like this….for $13!!!
How cool would this look blown up in a guest room?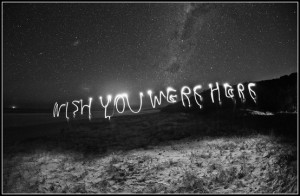 Typography is a huge trend in wall decor right now now, too, and there's no easier way to jump on the band wagon than this song lyric art.  This DIY canvas hangs in Jessie's eat-in kitchen nook and was a breeze to make following this tutorial.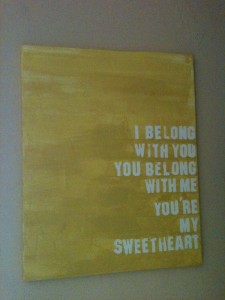 Jessie varied the project a little, using a canvas instead of a thrift store painting as her base, creating a slightly more simple finished product.
So there you have it.  Our favorite excuses to get our hands (a little) dirty in the name of wall art.
No need for intimidation or the big bucks when filling your walls.  A little vision, creativity and some basic supplies will get your walls in shape to be shown (or just admired) in no time.
Tags: DIY, DIY Wall Art, Wall Art