Jessie here, writing for the Pineapple Team this month.  And I have a confession:  my laundry room is a disaster.  And every time I remind sellers to organize and de-clutter their laundry room during a consultation, I feel a pang of hypocritical guilt.  So, for the good of all things staging, and in an attempt to show you what NOT to do, I give you my laundry room as it is now, and my plans for how to fix it.
What we have is really more of a laundry "closet".  Two double doors near our kitchen, hiding the washer and dryer, and for now, I'm thankful those doors stay shut.  I generally strive for an organized and de-cluttered home, and find a special kind of joy from labels and glass jars that only a Type A individual can truly understand.  We are constantly telling sellers, "living in your home is different than preparing your home for sale" and in this case, living has gotten in the way of organization. As in all small spaces, it's especially important to keep organized in order to maximize functionality.  The following things are standing in my way:
Closet becomes a "catch all" for any general household clutter that we need to stash away in a hurry
Limited shelving/storage for necessary items
No designated spots for laundry that needs washing, is hanging dry, or is ready to be put away (resulting in the explosion of clothes, towels, sheets you see before you)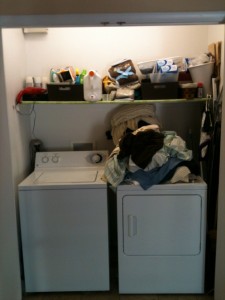 (feel free to gasp, it really is terrible)
As a general rule, reducing items in a cluttered closet or space by at least 50% will allow the space to seem larger, and more functional.  Good storage solutions can help keep the space organized once it's been de-cluttered.  I've also found that adding some beauty to a space that is usually just task oriented, can make that task a bit more enjoyable (or as enjoyable and washing and folding can be).  So those will be my goals:
  Reduce, reduce, reduce
  Add functional and easy to maintain storage
  Bring in some aesthetically pleasing elements
Here's my inspiration….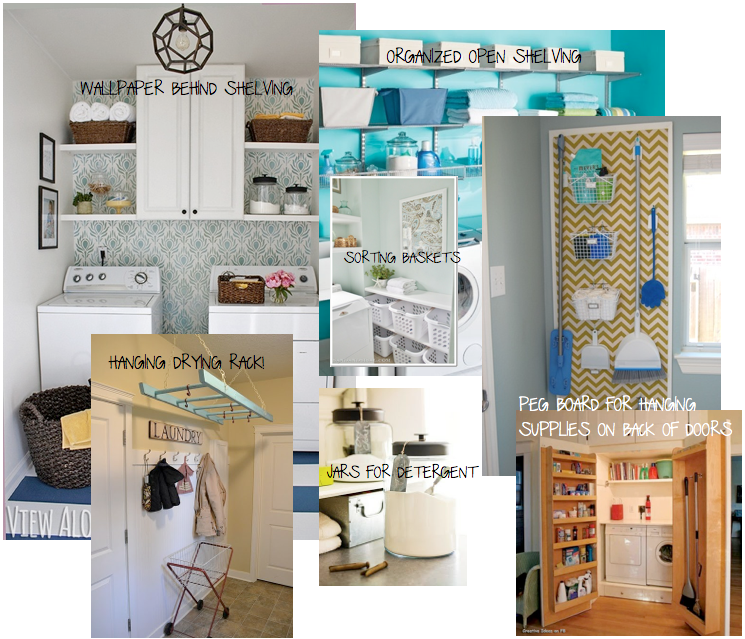 Check back next month for Laundry Room Confessionals, Part II: The Reveal.
Now time to tackle the project–and finish the laundry.