In the last post, I bravely shared the embarrassment that was (key word "was") my laundry room. As a Home Stager in Denver, I'm constantly giving advice to clients who are placing their homes on the market, about the fastest way to sell their homes for top dollar.  Much of this advice  is about organizing, de-cluttering, and ways to show small spaces as open and functional.  My laundry room was the opposite of all those things, and if I'd see something similar in a client's home during a staging consultation, I'd have a lot to say…
So, in an effort to practice what I preach, and bring the laundry room up to the standard of the rest of my well organized home, I was on a mission.  With some inspiration and about $150, I really was able to create a space that met all the items on my check list:
  Reduce, reduce, reduce
  Add functional and easy to maintain storage
  Bring in some aesthetically pleasing elements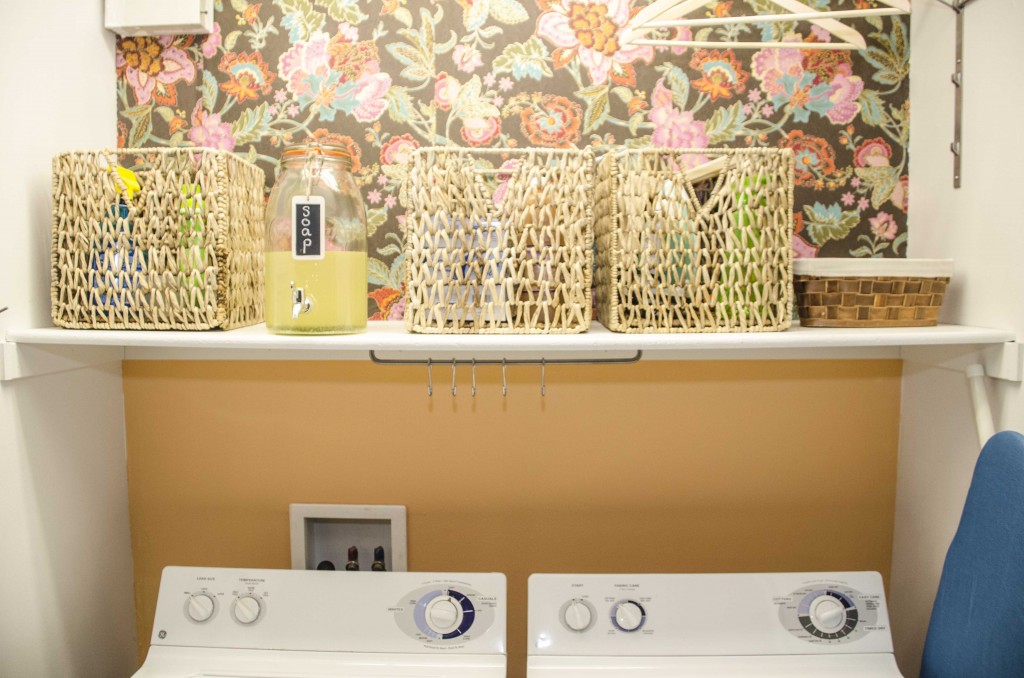 Much better, don't you think?
Here's what I did:
Removed EVERYTHING and did a deep clean.  During staging consolations we often recommend a "white glove" cleaning.  It's easy to live in your home and not realize the dust and clutter in every day spaces.  When preparing a home for sale, imagine running a white gloved finger over every surface.  Is it still white?  Then you're ready for sale.   I got rid of what we didn't need and organized everything else into appropriate baskets.  One for washing, one for general cleaning, and one for ironing.  Put my liquid laundry detergent into a drink dispenser for easy dispensing and beautiful storage.  Doesn't it just make you want to do a load of laundry?  Or drink lemonade?
Attached easy hanging storage solutions to the side walls.  Purchased a hanging catch all for mops, brooms and the dust buster (my most prized household item), lifting all these items up of the floor of the laundry closet. Removing items from the floor of a space helps the area to seem larger, open and more spacious.  Also bought a hanging rack to mount on the side wall as a place to hang dry items.  A small rod with hooks was mounted under the shelf as a place for socks without their pair or small delicates to dry.  Both came from Ikea and were under $10.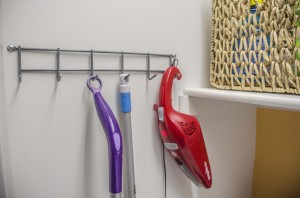 | | |
| --- | --- |
| | |
I knew I wanted to spruce things up a bit with some color and pattern.  I painted the bottom half of the back wall with leftover paint from my son's room. I saw this amazing tutorial about wallpapering with wrapping paper from Emily Jones.  She also did a laundry room re-do, and I was inspired.  So I gave it a whirl with these amazing patterned wrapping paper sheets.  Each sheet was only $4 and I used 5 sheets.  Not bad for what looks like designer wallpaper.  With the help of my mom (who gained a lot of experience with wallpaper in the 80's) and a few simple supplies, we were done in less than 2 hours!
(Before putting the paper on the wall, we measured each piece, numbered them on the back, and lined them up on the floor.  The wallpaper paste was $20 from Home Depot, and we used a handy dandy small kitchen spatula to gently smooth out bumps and air bubbles)
I'm thrilled with the finished product, and can now do laundry without guilt!  The space has become so much more functional, easy to use, and maintain. And I can confidently tell sellers, from personal experience, what a huge difference this process can make…for showing and selling, or just simple living.